Mrs. Lovett - "Well I can't say the years have been particularly kind to you Mr. Barker, bu..."
Sweeney Todd - "No, not Barker, that man is dead. It's Todd now, Sweeney Todd, and he will have his revenge."
Benjamin Barker, later known as Sweeney Todd, is the main protagonist and title character of the Broadway musical and its film adaptation. Benjamin Barker is a skilled barber, serving the men of London in his establishment on Fleet Street, He is married to Lucy Barker and together they have a daughter, Johanna. Benjamin Barker served 15 years of a Life Sentence in a prison in Australia, which is what he called "a living hell". After he escapes Incarceration, he returns home to London on a ship, with a new friend, Anthony. Anthony only knows Benjamin by his new name, Sweeney Todd.
Sweeney Todd's real name is actually Benjamin Barker, a barber who was accused of a crime he didn't commit. He was sentenced for life in a prison in Australia, but managed to escape after 15 years.
When Barker returns to London, he decides to start over again, and returns with the name Sweeney Todd so no one will recognize him by name. He heads to his old home, which is now owned by the lady
Mrs. Lovett
; an absent-minded woman who had turned the first floor into a pie shop and restaurant whilst not touching the second floor other than to hide Barker's razors. Suspecting Sweeney Todd is Benjamin Barker, she tells him that his wife
Lucy
was taken by
Judge Turpin
and that he had also taken his daughter
Johanna
.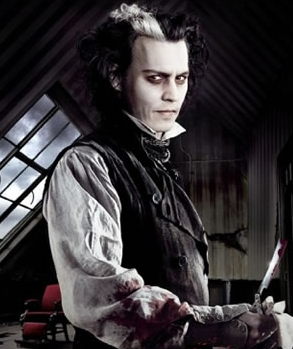 Mrs. Lovett
continues the story and tells Todd that Lucy poisoned herself many years ago with arsenic from the local pharmacy.
After hearing her fate, Sweeney Todd understands it is Judge Turpin who had ruined his life, and swears revenge on him.
Story versions
In some versions of the Sweeney Todd story, Mrs. Lovett, his partner in crime and variously his friend or lover, hides his crimes by butchering the corpses of Todd's victims, baking their flesh into meat pies, and selling them to unsuspecting customers. For reasons varying according to adaptation, Todd had lost his wife, Lucy Barker, and has been exiled for life; these misfortunes fuel a hatred for all mankind. Todd is also assisted by an unwitting apprentice named Tobias Ragg (a boy from a poorhouse who had traveled with Pirelli), who later aids in unmasking his crimes. In most recent versions of the story, Todd either helps or hinders (sometimes both) the love affair of a young woman, Johanna Turpin, with a sailor named Mark Ingesterie (more commonly known as Anthony Hope). In the musical stage production and 2007 film, Johanna is Todd's daughter, Johanna Barker.

The United States has announced that a new drama television program is currently in production to give the story of Sweeney Todd a new life from a new point of view. The story will feature each of the existing characters but with the twist of the tale being told from Mrs. Lovett's point of view. FOX 8 believes that the story will be similar to the current show airing in both Australia and America, "The Good Wife" where it portrays a woman in her life behind a powerful known figure in the world. Production managers have stated that they also would like to rearrange the story a little bit, claiming that what would happen if Mrs. Lovett began to disagree with the actions she and Sweeney were taking. A title has yet to be confirmed but the favored options are "The Pie Woman" and "A Little Priest". The character of Sweeney would also be more reassuring to Mrs. Lovett that what they were doing was justified.
Dramatic and musical adaptations
Edit
Stage Play and Film Adaptation
Edit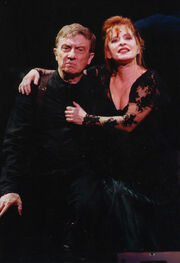 The original 1979 production featured Len Cariou as Todd, in a critically acclaimed performance that won him numerous awards. He starred alongside Angela Lansbury as Mrs. Lovett. The two were not known for their singing when cast.
In the 2007 film, Johnny Depp took on the role of Sweeney Todd, giving a performance that was very well received, and winning him a Golden Globe. Helena Bonham Carter took on the role of Mrs. Lovett. The two leads are directed by Tim Burton, and had not sung in films prior to this.
Other actors who have played Todd, but not necessarily sang as him, (because the 1936 movie have no singing in it), include Ray Winstone and Tod Slaughter.Template:QuoteTemplate:Quote