In general, the main outfit of Sweeney Todd mainly consits of what looks like a dark, blue-grey jacket and more. When he is seen without the jacket, he is seen wearing a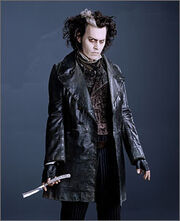 grey and brown vest and a white, long-sleeved shirt under it, along with long black pants. Sweeney Todd's general outfit was used throughout the play and film adaptions of Sweeney Todd: The Demon Barber of Fleet Street.
It is also sold as costumes for people to buy and wear in stores and online. If you also want to make the costume yourself the pants need to be sort of a dark blue and blue striped. And is is also shown that he has a big brown leather belt and a big wig with a silver/white stripe.