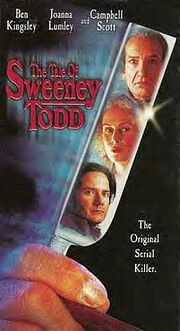 The Tale of Sweeney Todd is a 1998 American television movie directed by John Schlesinger. The play by Peter Buckman was adapted from a story by Peter Shaw. It was broadcast in the United States by Showtime on April 19, 1998 and released on videotape in France the following month. Set in 18th century London the story focuses on Sweeney Todd (Be Kingsley) a murderous barber.
Ad blocker interference detected!
Wikia is a free-to-use site that makes money from advertising. We have a modified experience for viewers using ad blockers

Wikia is not accessible if you've made further modifications. Remove the custom ad blocker rule(s) and the page will load as expected.